All rugs will eventually require cleaning, repair, or restoration services. When this occurs, contact Renaissance Rug Corporation and let our experts breathe new life into your fine rugs. Each rug is treated with special care, suited to your carpet's particular weave, fibers & dyes. Our expert technicians use the finest technology and environmentally friendly processes to restore the colors and textures of your rug.
Services include, but are not limited to: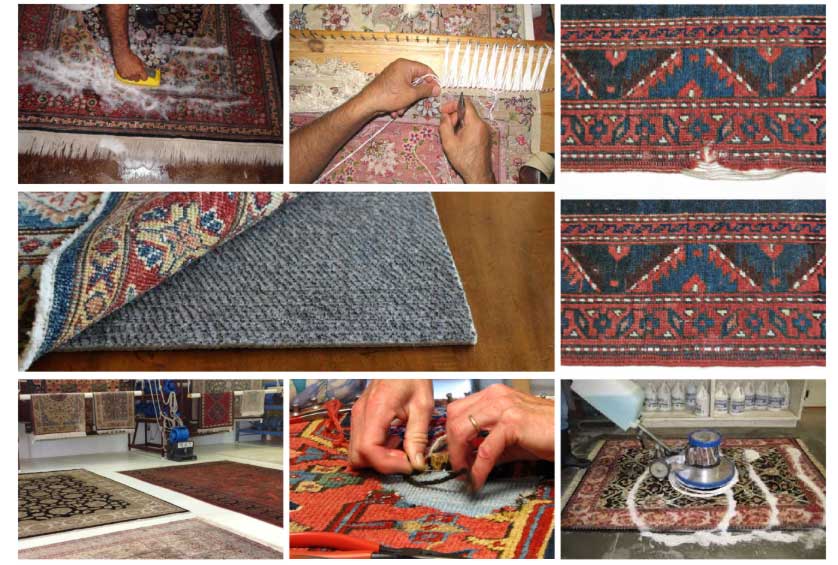 Protect your rugs and flooring, add cushioning and reduce slipping with rug pads. In high-traffic areas, such as family rooms and hallways, choose a thin rug pad to keep your rug in place without raising it too high off of the floor. In bedrooms, formal living rooms and other low-traffic areas, consider a thick rug pad for luxurious comfort and cushioning. Non-slip pads are ideal over hard surfaces, including tile, hardwood and concrete. Why Use a Rug Pad? Safety: Some rug fabrics can be slippery, especially on sleek hardwood or tile floors, and the pads keep the mat in place. They especially improve the safety of rugs in areas that are likely to get wet—kitchen rugs in front of the sink and bathroom rugs, for example. Rug Protection: Removing the friction between the floor and rug, which wears away at the rug and can result in fading, tarnishing of the pattern and threadbare spots, can vastly extend its lifespan. The pad also allows for easier cleaning, keeping the fabric in place while vacuuming, which will keep it in top shape.